User Guide¶
Step-by-step installation instructions for our self-hosted community edition can be found in Getting Started. All you need is a Web browser and Docker to run the server.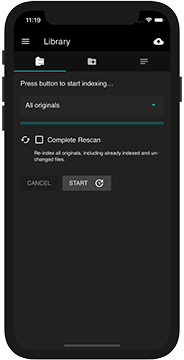 It is available for Mac, Linux, and Windows. PhotoPrism also runs on PikaPods, DigitalOcean, Raspberry Pi, Portainer, FreeBSD, and many NAS devices.
Once the initial setup is complete, our First Steps 👣 tutorial guides you through the user interface and settings to ensure your library is indexed according to your individual preferences.
PhotoPrism® Plus¶
Our members can activate additional features by logging in with the admin user created during setup and then following the steps described in our activation guide. Thank you for your support, which has been and continues to be essential to the success of the project!
Compare Memberships › View Membership FAQ ›
Getting Support¶
If you need help installing our software at home, you are welcome to post your question in GitHub Discussions or ask in our Community Chat. Common problems can be quickly diagnosed and solved using our Troubleshooting Checklists. Silver, Gold, and Platinum members are also welcome to email us for technical support and advice.
We kindly ask you not to report bugs via GitHub Issues unless you are certain to have found a fully reproducible and previously unreported issue that must be fixed directly in the app. Contact us or a community member if you need help, it could be a local configuration problem, or a misunderstanding in how the software works.